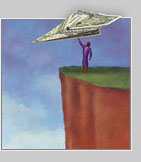 AngelsCorner is a Silicon Valley based venture group comprised of individual investors and representatives of investment corporations. AngelsCorner is primarily focused on investing into private companies with strong teams, proprietary solutions, and high potentials.
Our objective is to help talented entrepreneurs build lasting businesses of significant value. The private equity investors affiliated with AngelsCorner (the "Angels") are all successful business executives and entrepreneurs from diverse backgrounds who share an interest in investing both time, as board members and advisors, and capital in promising companies.
Through AngelsCorner, entrepreneurs can access critical resources of seed capital and management guidance from experienced business veterans, while investors can decrease the risk and increase the financial return of Angel Investing by cooperating in this activity with a disciplined and experienced group of like-minded colleagues.
If you are interested in presenting your investment opportunity to our network of investors, you are invited to submit a summary of your plan.
If you are an Accredited Investor interested in joining AngelsCorner, please contact our offices for more information on how to apply.